Resource Documents — latest additions
Documents presented here are not the product of nor are they necessarily endorsed by National Wind Watch. These resource documents are provided to assist anyone wishing to research the issue of industrial wind power and the impacts of its development. The information should be evaluated by each reader to come to their own conclusions about the many areas of debate.
---
Date added:
June 22, 2017
Emissions
•
Author: Various
Several analysts (links below) have examined the consequences of fossil fuel-fired generators, particularly natural gas, having to modulate their output and frequently start and stop to balance the highly variable infeed from wind turbines so that electrical supply is stable and reliable. The question is to factor in the increased emissions from operating the generators in that way compared with operating them more steadily, i.e., if they were not required to cope with the fluctuating contribution from wind turbines: How do the extra emissions of running the generators less efficiently compare with the emissions saved by running them less?
Since natural gas–fired generators are best able to respond quickly enough to balance wind energy, they have been added almost in parallel with wind (see graphs provided by the Department of Energy's Energy Information Agency), so it is not wind replacing coal-generated electricity, but wind plus its necessary partner natural gas (which, fracking and methane release aside, is much cleaner than coal). Might it not only be much cheaper and less land-intensive, but also even reduce emissions more to replace coal with natural gas only?
"The hidden fuel costs of wind generated electricity" by K. de Groot and C. le Pair
"The impact of wind generated electricity on fossil fuel consumption" by C. le Pair and K. de Groot
"Wind integration: Incremental emissions from back-up generation cycling (Part V: Calculator update)" [with links to Parts I–IV] by Kent Hawkins
"Big wind: How many households served, what emissions reduction? (a case study)" by Kent Hawkins and Donald Hertzmark
"Integrating Renewables: Have Policymakers Faced the Realities?" by Kent Hawkins
"Integrating Wind Power: Wind Fails in Two Important Performance Measures" by Kent Hawkins
"Analysis of Ontario's electricity system" by Kent Hawkins
"Air emissions due to wind and solar power" by Warren Katzenstein and Jay Apt
"Cost and quantity of greenhouse gas emissions avoided by wind generation" by Peter Lang
"Calculating wind power's environmental benefits" by Tom Hewson and David Pressman
"Reduction in carbon dioxide emissions: estimating the potential contribution from wind-power" by David White
"Less than one-fourth of projected fuel savings from wind on Falklands"
---
Author: Mitchell, Peter
Disclaimer
Many people have had their lives adversely impacted by the deployment of wind turbines in their district. Many more will become impacted by permitted but yet to be built wind projects. Often the impacts are of a magnitude that justify compensation in various forms.
This document has been prepared as a general guide to help identify the elements and possible magnitude of claims against the owner and/or the operator of a wind turbine project. The author is not a lawyer and takes no responsibility whatsoever for any use of any of the numbers herein which are merely presented for orientation purposes.
Any person who wishes to make a claim needs to consider their own circumstances and to obtain legal advice and assistance in making a claim.
The Purpose of This Document
This document is intended to give some guidance to those neighbours of wind turbine projects (WTPs) seeking relief on the construction of a financial claim for damages.
It also answers some questions about making a claim, but does not instruct how the claim might be supported, i.e., the detail that needs to be documented to support an impacted person's claim. That will require the help of an informed lawyer.
Note that this document has been written based mainly upon the Australian context but it is felt that it may be a useful starting point in other jurisdictions.
Cause of Damage
Wind turbines emit airborne (sound) and ground-borne (vibration) pressure waves. Much is known about sound waves (the audible portion of which is identified as noise). and their ability to harm and disturb neighbours up to 10 to 12 km from turbines. It is also known that vibration can also be a factor in disturbance, but at this point, it is low frequency sound and ultra-low frequency sound (infrasound) particularly where amplitude modulation is present that is understood to cause most damage.
Useful data for supporting a claim can be accessed from the extensive Waubra Foundation website (www.waubrafoundation.org.au/), e.g. under the tab Resources see Health and Legal; Friends Against Wind (www.friends-against-wind.org/) using the Justice tab; National Wind Watch (https://www.wind-watch.org) search for Litigation; and Stop These Things (https://stopthesethings.com) search for Litigation.
Form of Damage
The airborne pressure pulses which emanate from wind turbines cause physiological and psychological damage to individuals in different ways and at different intensities.
In time the body can become increasingly sensitised and ultimately permanently damaged. Homes become uninhabitable and very difficult to sell. People become trapped in unsafe locations.
A second form of damage is productivity of farm animals and the possibility that farm strategies and processes have to be changed.
However the principal matters of damage are family health and well-being, the habitability of the family residence and the safety of any associated workplace.
Constructing a Financial Claim
Here are the components of a claim and some indicative numbers.
The major element is the sale of your house to the Wind Turbine Project (WTP) owner and/or operator as applicable. The price asked should not be a present valuation, i.e., with turbines in place; but the price that the property would be worth today if there was no WTP in the area. This will involve briefing a first class valuer.
There should be an add-on for the disturbance of having to move, which might be a 10% to 20% addition to the property price.
There should be a refund of all the property replacement expenses such as stamp duty, legal documentation and conveyancing, and direct moving expenses.
Compensation for the damage and hurt caused by living in a dangerous and harmful environment for the period since the project was commissioned. It is suggested this compensation should be calculated by multiplying the number of persons living in the house by the number of years the damage has been endured by a dollar sum per person per year.
This dollar sum will depend on the severity of disturbance which generally will correlate with the separation between the house and the nearest turbines, and speculation on what courts might award then discounted for the risk and expense of going to court.
Here Is a Suggested Scale for Assessing Damage or Nuisance
| | | |
| --- | --- | --- |
| Condition | | $US/Person/Year |
| Forced to evacuate the home | | $150,000 to $200,000 |
| Forced to live away as much as possible | | $100,000 to $150,000 |
| Major discomfort | | $50,000 to $100,000 |
If you wish to make a claim then consider where your family fits in the above categories, and be sensible in that rating. Again take your lawyer's advice.
Should You Engage a Lawyer?
Yes. A lawyer is required to draft your claim and to be present and lead discussions with the representative of the WTP owner and/or developer. (In the Australian context, discussions may initially involve the National Wind Farm Commissioner).
Should You Join with Others Affected by the Same Wind Project?
Yes, if you consider they are willing to pay their share of costs, will be rational, particularly not wanting to rank their claims at a higher level than is reasonable, and will act in concert with the group. The group arrangements should be drafted by a lawyer so that there is the best possible protection against the WTP owner trying to break up the group with side deals.
Combining with others will, of course, reduce the cost of hiring a lawyer to draft and present your claim and also to draft some agreement on group arrangements.
Beware of Inappropriate Confidentiality Agreements
In settling problems in the past the industry has used "gag "clauses in some largely property based settlements and those gag clauses effectively stopped people who had sold properties from saying just about anything.
However it is reasonable for owners/operators to require that financial terms offered or agreed not be disclosed. Equally you may be disclosing personal and health information that you may want to keep confidential. These objectives should be able to be achieved by a specific agreement.
What About Court Action?
It is in the interests of both parties to negotiate a settlement.
Court actions are expensive and there is a risk of losing and having to meet in some jurisdictions not only your own costs, but those of the other side.
On the other side there is much evidence that would be exposed in a court action by a skilled barrister that could be hugely damaging to the wind company and indeed the whole industry.
Thus it is better to see if a reasonable settlement can be reached and if it cannot, you will need to consider further options with your lawyers.
Prepared by: Peter R. Mitchell
3 May, 2017
Download original document: "Seeking Damages from Wind Energy Project Owners/Operators"
---
Date added:
June 7, 2017
Noise
•
Author: Jones, Gareth; Lukashkina, Victoria; Russell, Ian; and Lukashkin, Andrei
Abstract. The mammalian inner ear contains sense organs responsible for detecting sound, gravity and linear acceleration, and angular acceleration. Of these organs, the cochlea is involved in hearing, while the sacculus and utriculus serve to detect linear acceleration. Recent evidence from birds and mammals, including humans, has shown that the sacculus, a hearing organ in many lower vertebrates, has retained some of its ancestral acoustic sensitivity. Here we provide not only more evidence for the retained acoustic sensitivity of the sacculus, but we also found that acoustic stimulation of the sacculus has behavioral significance in mammals. We show that the amplitude of an elicited auditory startle response is greater when the startle stimuli are presented simultaneously with a low-frequency masker, including masker tones that are outside the sensitivity range of the cochlea. Masker-enhanced auditory startle responses were also observed in otoconia-absent Nox3 mice, which lack otoconia but have no obvious cochlea pathology. However, masker enhancement was not observed in otoconia-absent Nox3 mice if the low-frequency masker tones were outside the sensitivity range of the cochlea. This last observation confirms that otoconial organs, most likely the sacculus, contribute to behavioral responses to low-frequency sounds in mice.
… The data in this article support and extend previous studies showing the retained acoustic sensitivity of the mammalian sacculus and for the first time demonstrates how this detection has a physiologically significant effect on an important behavioral reflex.
Gareth P. Jones, Victoria A. Lukashkina, Ian J. Russell, and Andrei N. Lukashkin
School of Life Sciences, University of Sussex, Brighton, U.K.
Journal of the Association for Research in Otolaryngology
December 2010, Volume 11, Issue 4, pp 725–732
DOI: 10.1007/s10162-010-0230-7
Download original document: "The Vestibular System Mediates Sensation of Low-Frequency Sounds in Mice"
---
Date added:
June 5, 2017
Economics
,
Environment
•
Author: Ridley, Matt
The Global Wind Energy Council recently released its latest report, excitedly boasting that 'the proliferation of wind energy into the global power market continues at a furious pace, after it was revealed that more than 54 gigawatts of clean renewable wind power was installed across the global market last year'.
You may have the impression from announcements like that, and from the obligatory pictures of wind turbines in any New York Times story, that wind power is making a big contribution to world energy today.
You would be wrong. Its contribution is still, after decades – nay centuries – of development, trivial to the point of irrelevance. Even after 30 years of huge subsidies, wind power provides only slightly more than zero energy to the world.
Even put together, wind and photovoltaic solar are supplying less than 1 per cent of global energy demand.
From the International Energy Agency's 2016 Key Renewables Trends, we can see that wind provided 0.46 per cent of global energy consumption in 2014, and solar and tide combined provided 0.35 per cent. Remember this is total energy, not just electricity, which is less than a fifth of all final energy, the rest being the solid, gaseous, and liquid fuels that do the heavy lifting for heat, transport and industry.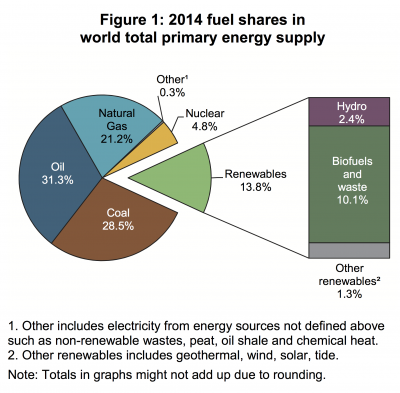 Such numbers are not hard to find, but they don't figure prominently in reports on energy derived from the Unreliables Lobby (solar and wind). Their trick is to hide behind the statement that close to 14 per cent of the world's energy is renewable, with the implication that this is wind and solar.
In fact the vast majority – three quarters – is biomass (mainly wood), and a very large part of that is 'traditional biomass': sticks, logs, charcoal and dung burned by the poor in their homes to cook with. Those people need that energy, but they pay a big price in health problems caused by smoke inhalation.
Even in rich countries playing with subsidized wind and solar, a huge slug of their renewable energy comes from wood and hydro, the reliable renewables.
Meanwhile, world energy demand has been growing at about 2 per cent a year for nearly 40 years. Between 2013 and 2014, again using International Energy Agency data, it grew by just under 2,000 terawatt-hours.
If wind turbines were to supply all of that growth but no more, how many would need to be built each year? The answer is nearly 350,000, since a two-megawatt turbine can produce about 0.005 terawatt-hours per annum. That's one-and-a-half times as many as have been built in the world since governments started pouring taxpayer money into this so-called industry in the early 2000s.
At a density of, very roughly, 50 acres per megawatt, typical for wind farms, that many turbines would require a land area half the size of the British Isles, including Ireland (61,000 sq mi). Every year.
If we kept this up for 50 years, we would have covered every square mile of a land area half the size of Russia with wind farms (3.05 million sq mi).
Remember, this would be just to fulfill the new demand for energy, not to displace the vast existing supply of energy from fossil fuels, which currently supply 80 per cent of global energy needs.
Further, the Unreliables Lobby cannot take refuge in the idea that wind turbines could become more efficient. There is a limit to how much energy you can extract from a moving fluid, the Betz limit, and wind turbines are already close to it.
And more: wind turbine effectiveness (the load factor, to use the engineering term) is determined by the wind that is available, and that varies at its own sweet will from second to second, day to day, year to year.
As machines, wind turbines are pretty good already; the problem is the wind resource itself, and we cannot change that. It's a fluctuating stream of low–density energy. Mankind stopped using it for mission-critical transport and mechanical power long ago, for sound reasons. It's just not very good. How much global cargo is shipped by sailing ships these days?
As for resource consumption and environmental impacts, the direct effects of wind turbines – killing birds and bats, sinking concrete foundations deep into wild lands – is bad enough.
But out of sight and mind is the dirty pollution generated in Inner Mongolia by the mining of rare-earth metals for the magnets in the turbines. This generates toxic and radioactive waste on an epic scale, which is why the phrase 'clean energy' is such a sick joke and greenie politicians should be ashamed every time it passes their lips.
It gets worse.
Wind turbines, apart from the fiberglass blades, are made mostly of steel, with concrete bases. They need about 200 times as much material per unit of capacity as a modern combined cycle gas turbine. Steel is made with coal, not just to provide the heat for smelting ore, but to supply the carbon in the alloy. Cement is also often made using coal. The machinery of 'clean' renewables is the output of the fossil fuel economy, and largely the coal economy.
A two-megawatt wind turbine weighs about 250 metric tons, including the tower, nacelle, rotor and blades. Globally, it takes about half a ton of coal to make a ton of steel. Add another 25 tons of coal for making the cement and you're talking 150 metric tons of coal per turbine.
Now if we are to build 350,000 wind turbines a year (or a smaller number of bigger ones), just to keep up with increasing energy demand, that will require 50 million metric tons of coal a year more than being mined now. That's about half the EU's hard coal–mining output.
The point of running through these numbers is to demonstrate that it is utterly futile, on a priori grounds, even to think that wind power can make any significant contribution to world energy supply, let alone to emissions reductions, without ruining the planet. As the extraordinary polymath Sir David MacKay pointed out, the arithmetic is against such unreliable renewables.
MacKay, former chief scientific adviser to the Department of Energy and Climate Change, said in the final interview before his tragic death last year that the idea that renewable energy could power the UK is an "appalling delusion" – for this reason: that there is not enough land.
The truth is, if you want to power civilization with fewer greenhouse gas emissions, then you should focus on shifting power generation, heat and transport to natural gas, the economically recoverable reserves of which – thanks to horizontal drilling and hydraulic fracturing – are much more abundant than we dreamed they ever could be.
It is also the lowest-emitting of the fossil fuels, so the emissions intensity of our wealth creation can actually fall while our wealth continues to increase.
And let's put some of that burgeoning wealth in nuclear, fission and fusion, so that it can take over from gas in the second half of this century. That is an engineerable, clean future.
Everything else is a political displacement activity, one that is actually counterproductive as a climate policy and, worst of all, shamefully robs the poor to make the taxpayer-subsidized crony-rich even richer.
Matt Ridley
May 2017
Matt Ridley is the author of The Rational Optimist, and as 5th Viscount Ridley is a Member of the British House of Lords. The Utter Complete Total Fraud of Wind Power originally appeared at To The Point News.
(((( o ))))
Additional notes by commenters at http://rodmartin.org/utter-complete-total-fraud-wind-power/
Frank Nova:
[B]ecause a large proportion of the energy coming out of a windmill is coming out in short burst, it requires an inordinately large hook-up power line to be able to carry very high peak capacity while the average capacity is very low. It's akin using a 10 tons truck to go buy a quart of milk. Warmageddonists were the first to rant against using a Hummer as daily transportation. Well, windmills are the Hummers-for-getting-a-quart-of-milk of power generation.
Manley C. Butler Jr.:
AND – it does not even make any allowance for the terrible environmental damage to the sites during construction of each turbine and the continuing eyesore of each power easement.
AND – it makes no allowance for removal of obsolete towers.
BUT – Because the efficiency of any wing device improves with increases in the aspect ratio (L/W) the blades are getting longer and longer. Therefore the use of high-strength, lightweight materials is required; therefore the wind turbine has been a great source money (both R&D and production) for the composites industry.
---